On November 2, the DCAR Public Policy Committee and DCAR Affordable Housing Subcommittee hosted "Vision Forward: Molding the Future of Housing in The District." Watch highlights of the event: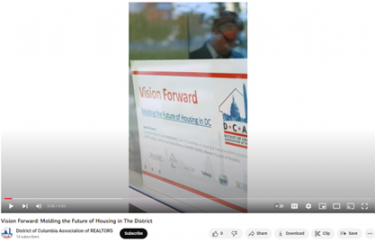 The event included a "fireside chat" with At-Large Councilmember Anita Bonds and an informative roundtable discussion featuring the following organizations:
African American Real Estate Professionals (AAREP DC)
the Asian Real Estate Association of America (AREAA DC Chapter)
the LGBTQ+ Real Estate Alliance
the National Association of Hispanic Real Estate Professionals (NAHREP DC)
National Association of Real Estate Brokers
Women's Council of Realtors Greater Capital Area
This was the first time ever that DCAR has brought together all of these organizations to facilitate open dialogue about the challenges experienced by their members regarding housing and housing policy, with the goal of creating a better future for our region.
We thank DCAR Public Policy Committee Chair Anthony Graham and Vice Chair Hillary Nash for orchestrating this entire event, including bringing together our partner organizations together. And thanks to those partner organizations, as well as Councilmember Bonds and all of our DCAR members who helped to make it a success!