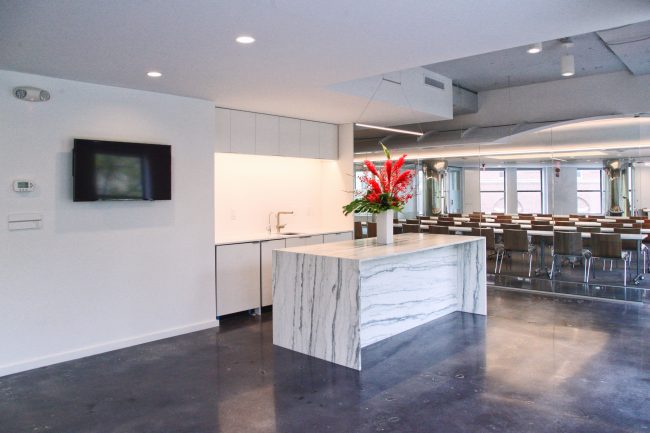 DCAR's new DC office and primary headquarters is now open! The entire third floor of 1615 New Hampshire Ave. NW (Dupont Circle) is owned by DCAR and GCAAR, and it will be the home for any DC-based classes and events (unless location is otherwise noted) for moving forward.
For information on renting out the space, see below.
Directions
Metro
Take the Red Line to Dupont Circle; exit using the Q St. escalator
Turn right onto Q St.
Walk two blocks on Q St. until you reach New Hampshire Ave.
Turn left onto New Hampshire Ave.
Walk about 500 feet down New Hampshire Ave.
Building will be on your right immediately after Corcoran St.
Driving
From Montgomery County:
Get on 270 going south toward DC
At the 270 spur, stay left
Stay in the right two lanes to get on 495 East
Take the MD 185/Connecticut Ave. exit
At Chevy Chase Circle, exit on Connecticut Ave.
Take Connecticut Ave. until just before Dupont Circle, then make a left on Q St.
Take Q St. two blocks, then make a left on New Hampshire Ave.
Building will be on your right after about a block
From Northern Virginia:
Take 66 East into DC by way of the Theodore Roosevelt Bridge
Follow that road (E St. Expressway) to 20th St., then take a left on 20th St.
Take 20th St. all the way up just past Dupont Circle, then make a right on Q St.
Take Q St. two blocks, then make a left on New Hampshire Ave.
After about a block, building will be on your right
From Prince George's County:
Take the Suitland Parkway west into DC
Turn right onto Firth Sterling Ave., then merge onto 295 North
Use the left two lanes to take the exit onto 695
Use the right lane to merge onto 395 South
Take the Maine Ave. exit, then keep right at the fork and follow signs for the 12th St. Expressway
Head north on 12th St., then take a left on Massachusetts Ave.
At Scott Circle, take the third exit and stay on Massachusetts Ave.
Turn right on 18th St.
Turn right on New Hampshire Ave., building will be on the right
Parking
Using the map below, courtesy of SpotHero, visitors can reserve parking for a specific slot on any given day around the Dupont Circle neighborhood. Street parking is also available on a first-come, first-served basis. Most of the nearby street parking options are available on a two-hour limit.
Click here to request rates and availability.
Rental opportunities for this space are handled by the experts at McNeese Thomas Group. You can read about the opportunities below, courtesy of MTG. For those interested in renting part or all of the space, please fill out the form below.
1615 @ Dupont
1615 @ Dupont, owned by DCAR and GCAAR, is a newly-opened landmark event and meeting space in the heart of the sophisticated Dupont Circle neighborhood. Offering luxuriously-appointed meeting amenities, this super sleek venue can accommodate multiple configurations. The venue has four rooms with varying capacities: 12 for the Rotunda, 20 for the Boardroom, 50 for the classroom and 150 for general receptions.
Essential Elements
State-of-the-Art Technology
Ergonomic Furniture
High-Speed Internet
Flexible Meeting and Event Space
Event Planning Services
Top-Rated Food and Beverage
1615 Event Space
Conference Room
The largest event space is equipped with a presentation podium, built-in audio and a built in-screen with projector. The room can accommodate 70 theater and 40 classroom; when combined with the adjacent meeting room, the capacity can grow to 100 theater, 50 classroom and 90 in rounds.
Rotunda
The circular space can be open or closed to the remaining meeting space, and it is equipped with a speakerphone. The Rotunda is perfect for a private 12-person meeting, or it can add a unique feature to a reception.
Boardroom
The glass-enclosed Boardroom, equipped with a flat-screen TV display and speakerphone, can accommodate 20 seated boardroom style. This flexible space can also serve as a breakfast and lunch station for all-day meetings.
Social Area
The 1615 @ Dupont welcome lobby is the perfect location for registration, breaks and bar setup. This space is also outfitted with digital signage for groups.